Discount automatically applied at checkout!
INSTANTLY LONGER, INSTANTLY THICKER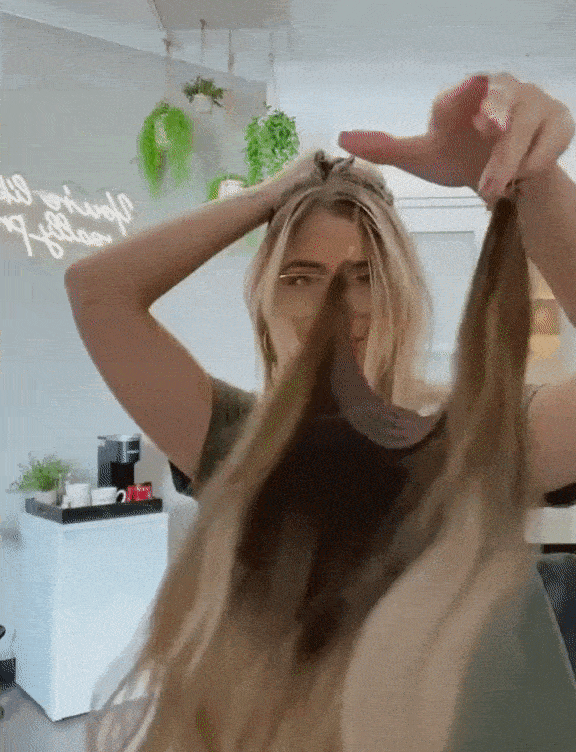 INTRODUCING: THE INVISIBLE SEAMLESS HALO® BLEND EXTENSIONS
Perfect Color Match Guaranteed

Looks And Feels Like Real Hair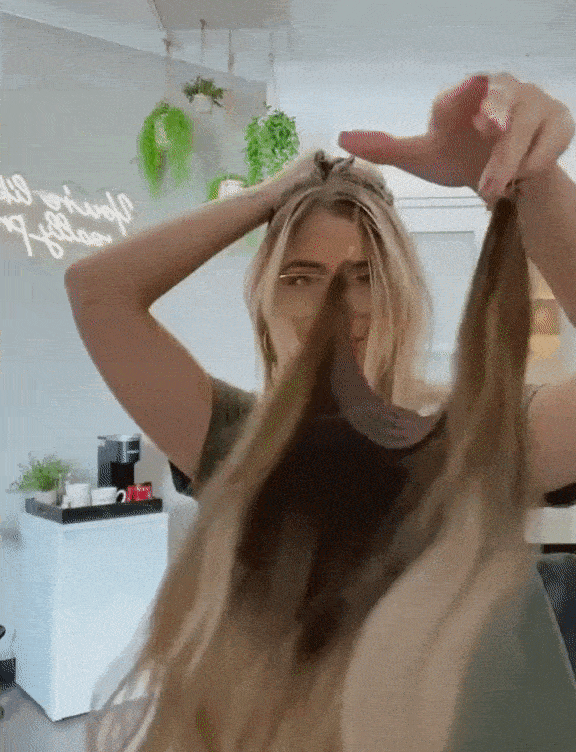 FIND YOUR PERFECT
SHADE & LENGTH
COLOR MATCH GUARANTEED:
Don't worry about ordering the wrong shade, we'll replace your extensions until we get it right.
Note: Each HAIRMOMENT HALO® has 3 different lengths and comes pre-curled.
You can style it exactly how you like when it arrives!
STEP
ONE:

Find your shade.

STEP
TWO

:

Decide on your length.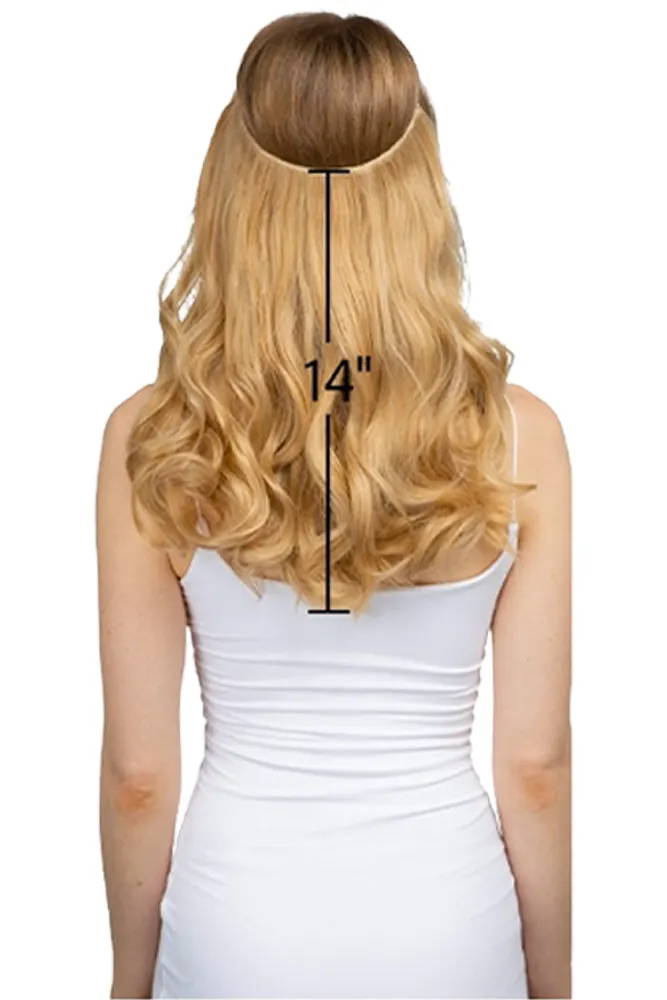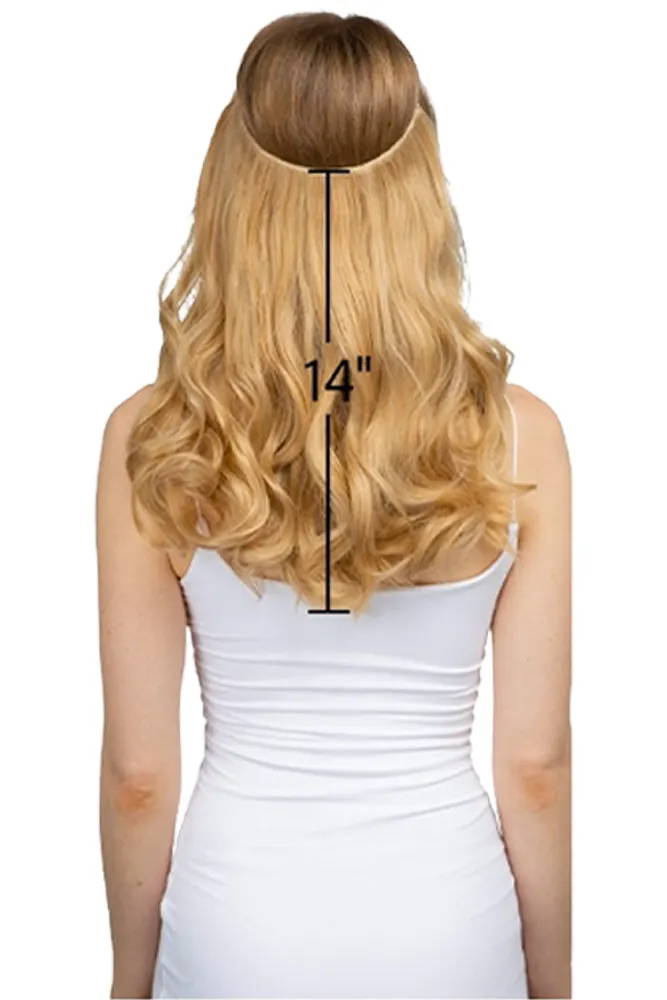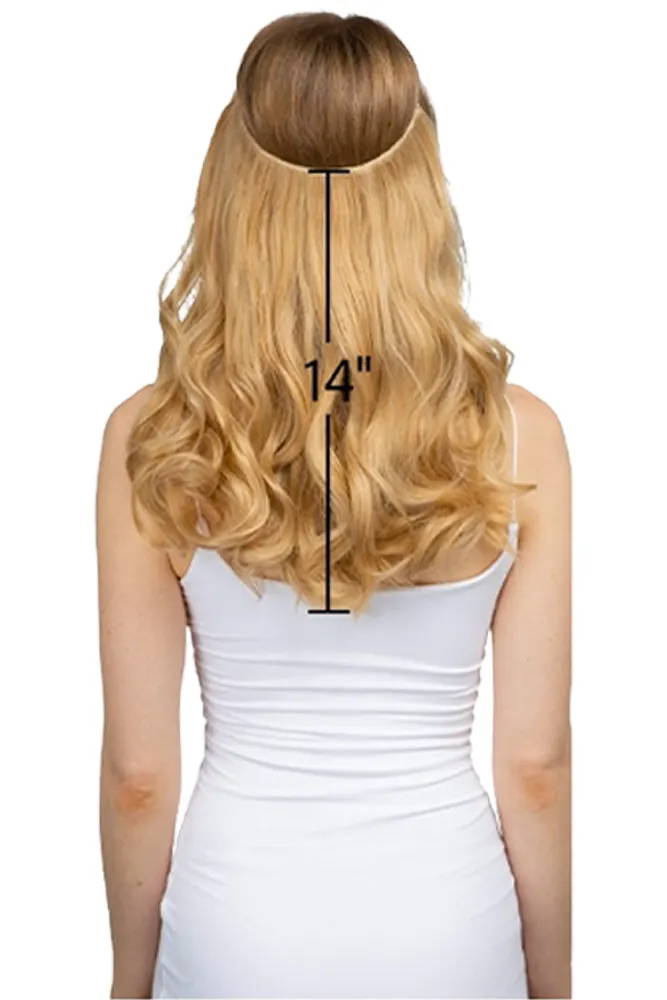 To achieve a medium-length
volume.
To achieve both length and
volume.
STEP
THREE

:

Choose desired shade below and

PLACE YOUR ORDER

!
THE
QUICKEST

AND

EASIEST

EXTENSIONS EVER
Get your
DREAM HAIR

in seconds!
HairMoment Halo® Extensions are a revolutionary way to instantly make your hair thicker and longer. No glue, no clips, and no salon!
Taking them off is even easier. With a Halo® there's no need to constantly wear uncomfortable extensions.
Before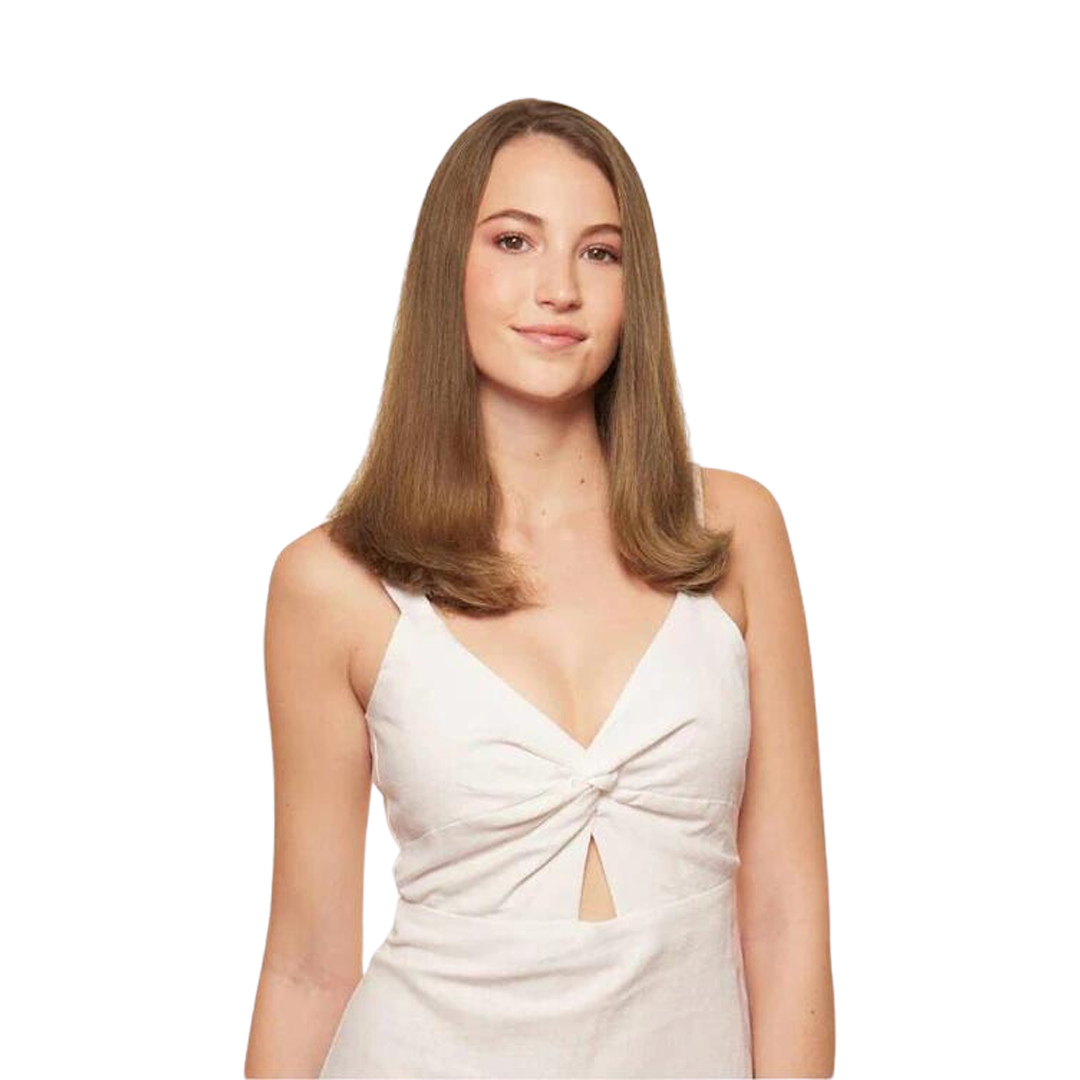 After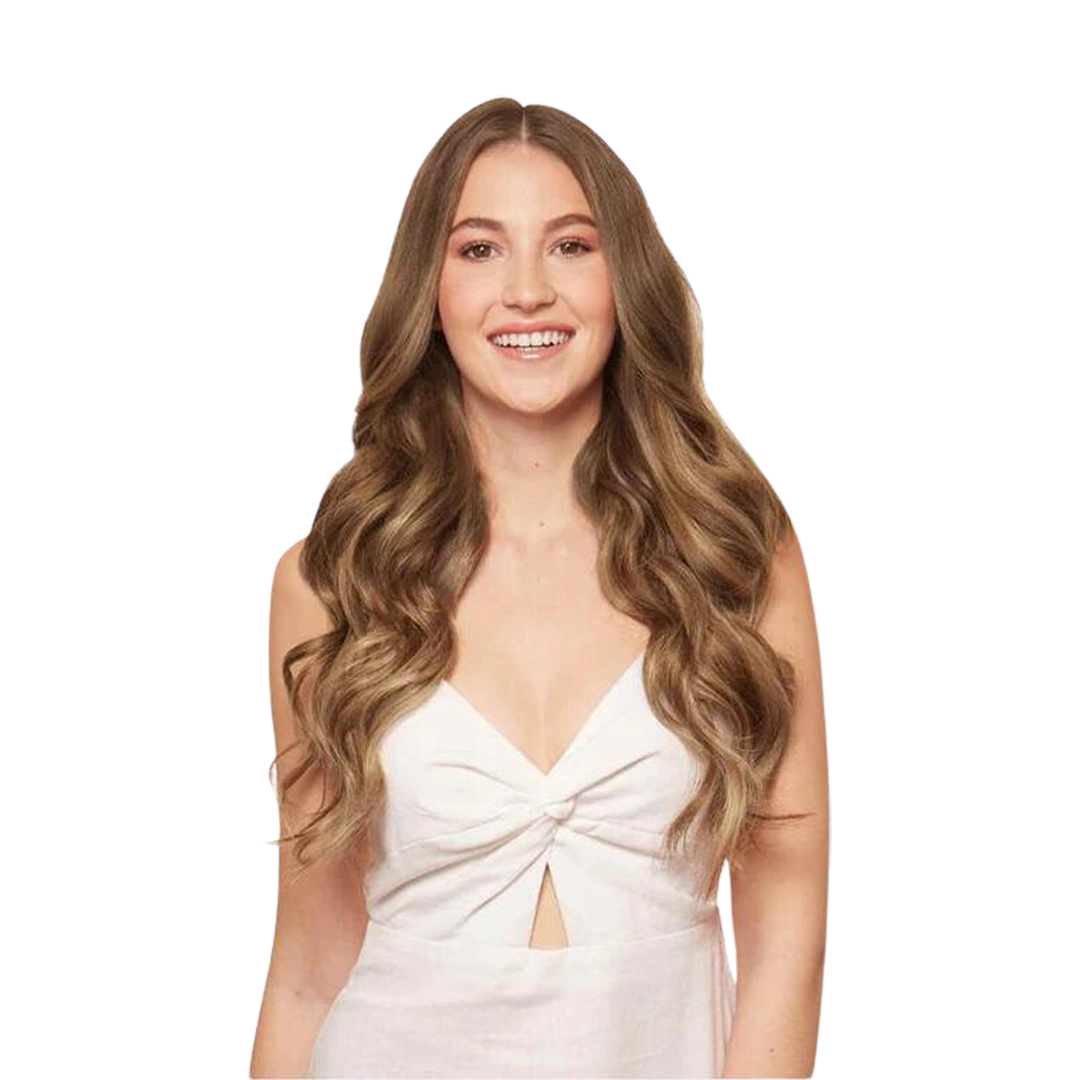 The
PERFECT BLEND,

Every Time.
Completely seamless, undetectable and high quality. Once you've put them in and properly styled your hair there's no absolutely no way to tell that they're there!
And the invisible wire attached keeps them securely in place so you don't have to worry about them ever falling out.
Looks and Feels Like
REAL HAIR
Get salon-quality hair, at home. Our extensions are made out of Kanekalon™, the highest quality synthetic extension material made to date.
It's honestly ridiculous how closely it mimics real hair! And in many ways, it's actually better than human hair extensions.
Lighter than real hair extensions
More affordable than real hair extensions
Longer lifetime than real hair extensions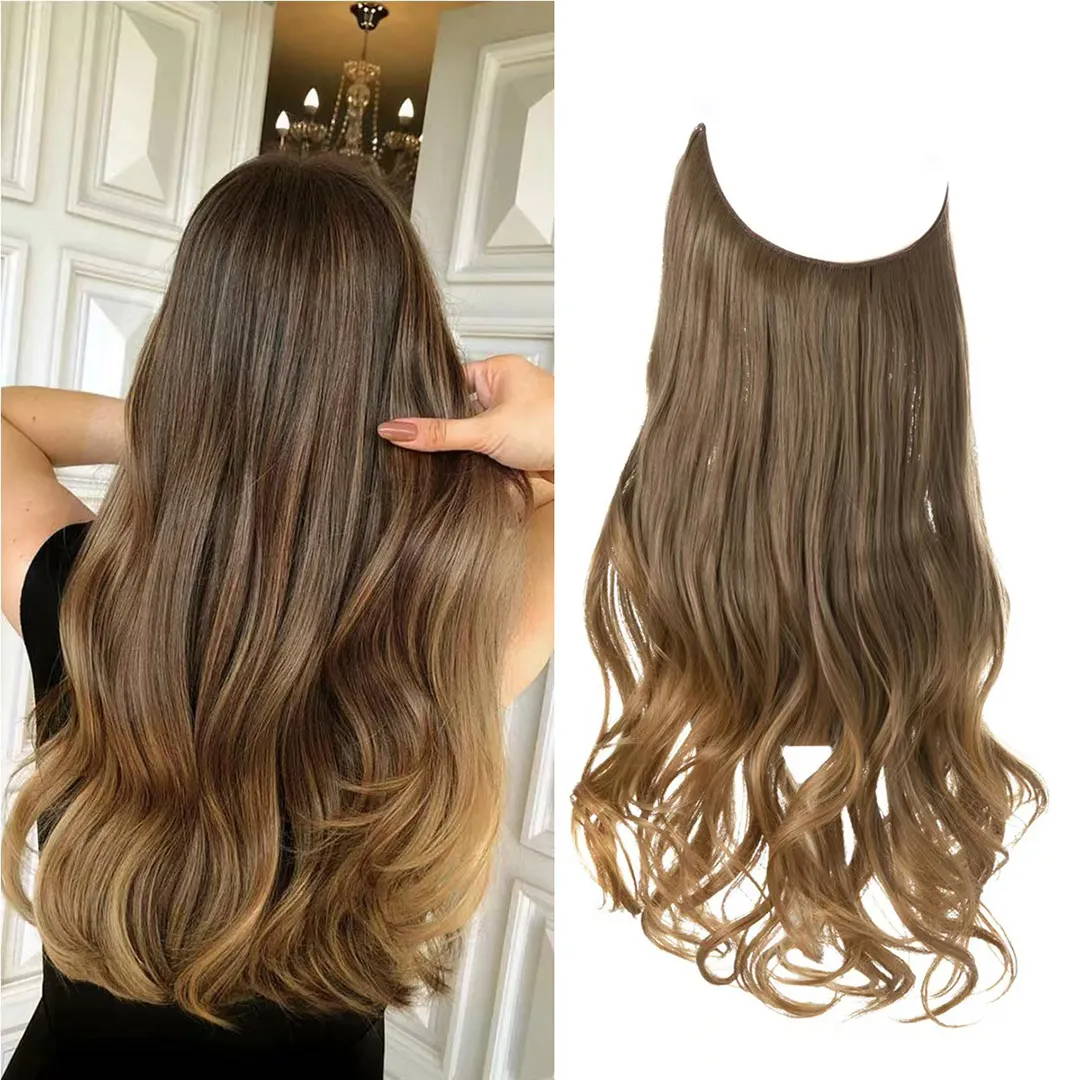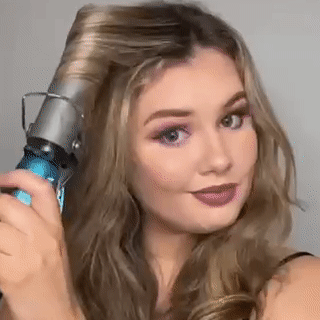 Plus They're
FULLY STYLABLE

!
You'll be able to straighten the extensions when they arrive and then put a wavy curl in them again!
Just make sure you use a low heat setting (275-300 degrees) to avoid damaging them.
PERFECT COLOR MATCH, GUARANTEED!
We really want you try out a Halo® and feel the incredible boost of confidence you get from having long, thick hair.
That's why we encourage you to follow our steps above so you can carefully curate the exact shade you need.
BUT, if your extensions don't quite blend right... We'll send you a replacement set until we nail it!
Frequently Asked Questions
Your new Halo®
2 invisible wires to keep it securely in place (1 on the Halo® and one extra)
2 velcro clips for optional added security
The Halo® Extension Manual
How do I find the right length?
The length you go with is entirely up to how long you want your hair to look.
There are a couple of handy tips to know though:
⭐When in doubt, go with the longer option. You can always cut the hair down to the length you want. But you can't add any back.
⭐It will be easier to blend extensions that are close to the length of your hair, or just a little bit longer. That doesn't mean you can't blend longer extensions if you have short hair.
⭐The two images below will give you a good idea of how long each option is: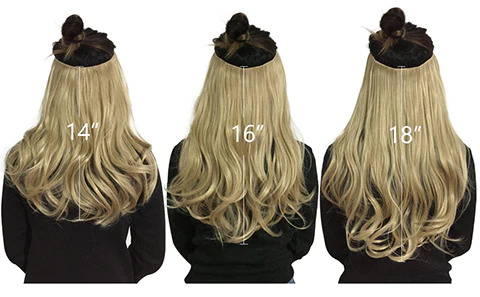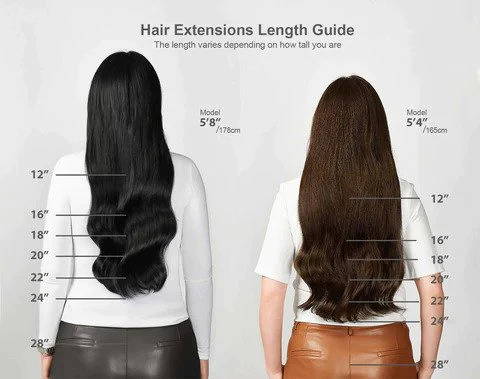 How do I find the right length?
Please refer to the in depth guide we included at the top of this page! And if you have any additional questions don't hesitate to reach out to us using our contact form.
There are two main methods for putting on our Halos®. You can either part your hair, put the Halo® on, let your hair down and brush to blend. Or put the Halo® on and pull your hair out over it.
We recommend trying them both out and seeing which works best for you!

Follow the handy picture guide below to learn how: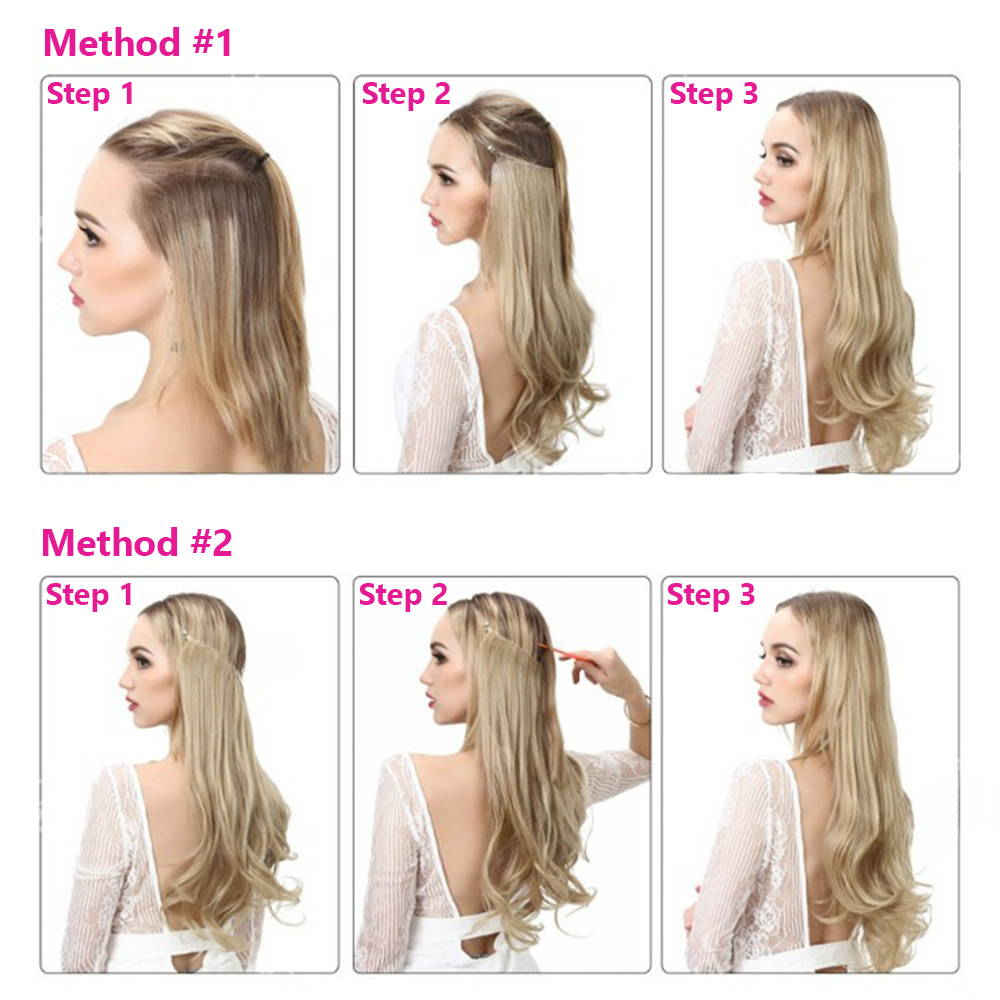 How does it stay on? I'm worried it will slide right off!
Don't worry! It will never fall off. The invisible wire tightens down onto the crown of your head, securing the halo in place so it doesn't move around at all. We also include 3 clips in your order so if you want to be extra sure it stays in you can always use those.
Do they look really synthetic?
No! On the contrary they look and feel almost identical to real hair. When your Halo® is properly blended there's no way to tell it's in there.
Does it feel heavy on your head?
Our Halos® are actually the lightest you can find on the market! Real hair is much heavier. Of course, it will feel like you've got something on your head, but you'll get used to it in minutes and comfortably wear it for the rest of the day!
Yes! Kanekalon™ is heat resistant has the ability to be styled. There are limitations though. Please use a low heat setting (275-300 degrees) and heat protection spray. Also realize that you won't be able to do everything you want with them. You can straighten them from the curly condition they arrive in, and then put the waves back in. But you won't be able to get really tight curls.
Our Halos® are made of Kanekalon™, the highest quality synthetic extension material to date. It is a heat resistent synthetic composite that mimics human hair 1 to 1. As a result our Halos® can be styled, unlike other synthetic extensions out there!
We spent a lot of time developing hair colors that will perfectly blend with your hair, but if you get an extension that is slightly off, or if you have a light tint in your own hair, then yes you will be able to dye them. It will have to be fabric dye though since regular hair dye does not work. Also make sure you never bleach them! That will ruin them.
Can I put my hair up once it's on?
You will absolutely be able to put your hair into a pony tale or a low bun. But putting it up into a top knot will not work the best.
How do I take care of it?
Washing: Start by running it under lukewarm water. Then massage with paraben free shampoo. When using conditioner leave it in for 15 minutes for the best results. Rinse thoroughly with cold water after. We recommend washing the extensions every few weeks depending on use.
Drying: Gently pat the exstensions down with a dry towel. Then let it air dry until all moisture is gone. Do not rub to dry, or use heat.
Brushing: Use a wide tooth comb or a paddle brush to gently detangle. Start from the bottom and work your way up.
How heavy are the different lengths?
The 14 inch extensions are 70 grams, the 16 inch extensions are 80 grams, and the 18 inch extensions are 95 grams!